Handmade Beaded Jewelry Necklaces, Bracelets, Earrings and Accessories by CC Creations
Welcome To CCCreations's Shop
Welcome to our shop - We appreciate you stopping by!
We design and create handmade jewelry and accessories using a variety of materials including semi-precious gemstones, crystals, wood, leather, metal, wire and glass beads. Please do not hesitate to ask any questions you have about our items. We look forward to being your #1 place to go for handmade jewelry and accessories!
Please stop by and say 'Hi' on Facebook!
http://www.facebook.com/CCCreations94

Christmas in July Sale going on until July 31, 2014!! 25% off items in the Christmas in JULY SALE section!!
Seller Info
Feedback:

Member:

since May 26th, 2011

Location:
Shop Navigation
Our Feedback From Other Sites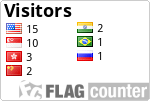 Christmas Countdown
<!-My countdown widget - HTML code - mycountdown.org --><!-end of code-->
I Pledge Handmade!