EverythingElse
EverythingElse's Seller Feedback
Welcome To EverythingElse's Shop
EverythingElse is an off-shoot of Grandmother's House - where we are dedicated to ALL things for the Infant-to-PreTeen community!
BUT, there's so much more going on at Grandmother's House that we would like to offer to the general public - and following the traditions of Grandmother's House, our hand-made items are heart-made, utilizing core components that are Made In The USA!
Once in a while, we may step outside the box and discover Retro/Vintage items that we have used and know to be among the best of the BEST to sufficiently and efficiently manage your home in this modern-day-world.
Whatever your pleasure, we hope you will find it here - come back often, for, as with any new venture, we'll be arranging and re-arranging, and 'fussing till we get it right!
We love to say "we're open 24/7/365 with guaranteed NO parking hassles!"
Thanks for stopping by -
First, we created
www.zibbet.com/grandmothershouse
and now - there's EverythingElse ! ~~♥♥~~ One of our favorite Sections is "Picture This !" We feature machine embroidered wall/room accessories that are sure please!
see us at
www.zibbet.com/everythingelse
EverythingElse's Favorite Items
Seller Info
Feedback:

Member:

since Jan 8th, 2012

Location:
Shop Navigation
Time of Day
Counter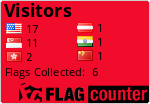 Free counters
Pinterest

TPA
On Fire for Handmade
I Pledge Handmade