You have arrived at the MoxyFoxBook Shop. Yippee!
MoxyFoxBooks's Seller Feedback
Welcome To MoxyFoxBooks's Shop
You must be a book lover and probably have a library you cherish. Do you want to add a book or two? It seems I am always finding another treasure to love. The MoxyFoxBook shop here at Zibbet has mostly non-fiction. When shopping for books, I am drawn to the scarce and out of print, and of course craft books. So glad you are here. I am Susan Givens and I live in Bend, Oregon.
Seller Info
Feedback:

Member:

since May 6th, 2012

Location:
Thanks for coming!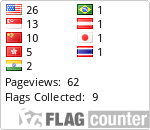 Pinterest

Revolving Earth Counter
Facebook page invite
MoxyFoxDesigns
Promote Your Page Too
map counter