Profile for Paperbilities4You
I have been happily married to my wonderful husband for 38 years. What makes him wonderful is that he wants me to be happy and he knows that my crafting does that for me. He will ask if I need to go to the craft store then drive me there and gives me HIS credit card. He will actually come in the store and push the cart around , WHY? because he says it gets too hard for me to push when it is full. You just have to love the man, right?

I have enjoyed scrapbooking and making things with felt most of my life and hope you will too.


Seller Info
Feedback:

Member:

since Mar 20th, 2011

Location:
Flag Counter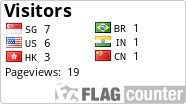 SHOP VISITORS
HOW DID YOU HEAR ABOUT US
Zbox