Profile for Valmade
I'm English and live in Hong Kong.

I guess you could call me a jack of all trades. I have knitted and cross stitched since I was young and now make cards as well.

I love making things, and always have numerous projects on the go.

Everything you will find in this shop has been made by me.

Seller Info
Feedback:

Member:

since Nov 26th, 2009

Location:
Flag Counter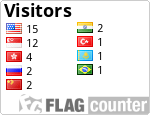 CraftsUprint